Summer Startup Ch. 05 | Business Proposals
Helloooooooo Friends,
Crazy week. A great opportunity for a partnership came about, which required me to take a look at how to make better business proposals. In the past, the business proposals we have developed were relatively brief, containing some Creative Revolution branding and an abbreviated version of our plan of action. We would develop them in Adobe Illustrator and have them printed up on thick copy, and proceeded to mail them to our potential clients. As things have gone about, we have come to the realization that we need to be far more detailed oriented when it comes to our business proposals. So with a little bit of research we started to develop our 14 page proposal. Now this is a bit of a template that can be used for future clients, therefore the bulk aspect of the work is completed as soon as the layout as finished. For each client, the proposal will be tailored to meet their industry, needs, pricing, etc., however a good portion of this proposal has some core information that does not need to change. It reminds me of the days of writing cover letters for job openings. We know how you feel people! Writing cover letters all day is a job in itself! It is a bit tedious, but it has to be done. And much like cover letters, often times your proposal gets dropped in the pile and rarely read.
Now you are probably wondering what is in a 14 page proposal, and once completed, we will make a public template version for other startups to use for their own good. Now there are a variety of business proposals and every industry and every company will require some tweaking and alterations to the core template, but the underlying frame is here.  A cover page, which we get fairly creative with, a prospective logo of the client, a slogan, and an indication that it is indeed a business proposal you are reading. Following the cover pages is the table of contents, and that breaks down the four chapters. We want our readers to be able to find a section at a glance. The four chapters involve an Executive Summary, Company Profile, Portfolio, and the Web Design Life Cycle. In addition, Creative Revolution doesn't just offer web design services, we also offer social media management (SMM), search engine optimization (SEO), and creative design. All of these are covered in our business proposals under varying subsections.
The foundation for our business proposals is for our potential client to have a full understanding of what Creative Revolution is able capable of handling, our approach, and how we resolve your company's concerns. This is something that we unquestionably lacked prior, as our former business proposals were more designed focus. We relied too heavily on our design as a selling point, and used less words. I think with 14 pages of reading, we have soundly resolved any lack of copy. But lets not get carried away, within those pages are design elements that we highlight. Back in our days of applying to jobs, creative resumes were the jam, something that stuck out from the crowd. This is much like that, not every page is just packed with text. Items are outlined in a unique fashion.
Check out our original brief business proposals that we would submit. Each proposal was a one sided, thick stock cut, with customized copy on the front. I also want to give a shout out to whoever made this version, as it was a great help for designing the Creative Revolution version.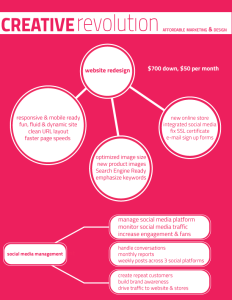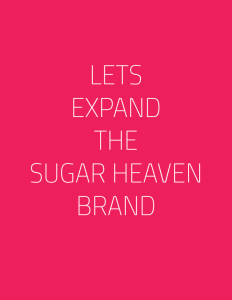 Would you like to share your thoughts?