Summer Startup Ch. 07 | Video Marketing Tools
Helllooooo Friennnndsss,
Testing, testing, mic check, 2,1,2, or something along those lines. Another hectic week in the books. Last week we covered the formally written section of a web design proposal – which we have a final draft ready to head out. However, after reading over the proposal, it lacked a particular design element. The formal written proposal did not offer much visual identity. How can a business looking for a new, 'cool' website be sold on a 'cool' design when they cannot see anything regarding style? Now, of course, we jazzed up the written aspect with some light design elements – but even the most well-suited sales individual would find it hard to pitch. Which led us to the idea of supplementing the written version with a video. This is where some video marketing tools come into play. We are not going to be talking about your standard digital marketing tools (items like Hootsuite, Twitter, Tweepie, Mailchimp), rather items like Adobe Suites, After Effects, Adobe Premiere, and even hardware, such as the type of camera used.
Now when you are a startup, you tend to do things on a tighter budget. There are certain items in which you can cheap out, and there are other items in which you should splurge. And then there are just great bargains, which we will also cover. From a professional standpoint, we as a company want to produce the highest quality products; Creative Revolution tends to lend its hand to strict budget/well-executed ideas. Our software suites are all paid versions, and our hardware is generally on the middle tier of the scales. With that said, some of your video marketing tools can be rehashed from previous projects or departments. We are talking lighting from our photography, even the Nikon D7000 camera we use. The Nikon D7000 offers full HD 1920×1080 shot at 24 FPS – giving you the full cinematic high definition feel and look. Another essential marketing tool that often goes overlooked for professional quality is sound. Yes, you heard me loud and clear – or perhaps you did not because you opted to use the stock microphone in your camera. We could spend another thousand words going into detail as to why that is bad. Just know this, a simple $99 Rode microphone with a 3.5mm jack will allow you to present your video with much greater clarity. Avoid unwanted background noises and odd microphone hiss.

So you have your DSLR camera or dedicated camcorder, and your microphone. You could have someone hold the microphone above your head with a boom for best results. And you could have an individual operate your camera as a pseudo cameraman. But what if your video marketing tools budget does not include a full staff? Hop on Amazon.com and find yourself a couple of affordable tripods. You can find a few for under $30 that will extend to 60+". Look for one with solid metal construction, foldable, light, and has a decent swivel head mount. You may want to look into a small one for your microphone. Of course, you always have the option to mount the microphone on top of the camera. However, the sound quality will vary depending on how far you plan to be from the source.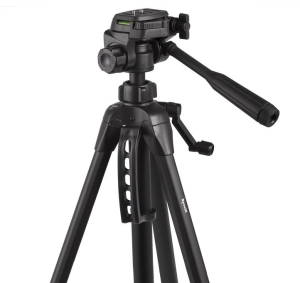 If you have a tablet, our recommendation would be to invest in an OTG (On The Go) Cable. The OTG cable will allow you to connect your camera to any device, such as a tablet or larger screen phone (think iPhone 6+). This gives you or your camera operator a larger viewfinder. Now, this does not seem all that important on the face of it, however, with a downloaded app on your device ( the app will vary by operating system), you can manage your camera's settings. Also, you can verify with much better certainty that your shots are in focus and that your lighting is just right.
At this point, you have most of your video marketing tools, at least all of the hardware. And by now you can carry on to the next step. Now we are glazing over some details like location, setting up shots, and scripts. Keep in mind we are limiting ourselves to the video marketing tools, and not how to make them. The next step in your process will be editing your videos, uploading, and hosting.
Adobe Creative Cloud is a great paid solution for making edits, putting together scenes, cuts, and adding visual elements to making the perfect video. Adobe After Effects will allow you to alter the color ranges of your videos, creating time-lapse footage or slow motion. Also, you can add title sequences and annotations, just to name a few. Adobe Premiere combines more editing abilities, as well as final post-production preparation for your hosting options.
As far as hosting and exporting your video, many different variations are depending on the quality (HD versus SD, 1080 versus 720, etc.). The main aspect to keep in mind is your end destination. Adobe Premiere will allow specifying the exact encoding options for your hosting. For example, you want to develop your Youtube channel; Premiere has the precise specifications for you to export your file and upload it directly to the appropriate channel.
At Creative Revolution we understand that not every small business or startup can afford all of the hardware and digital marketing tools that we discussed. And we do not want to exclude you. With that said. What are marketing tools you can use for free?
Would you like to share your thoughts?