Summer Startup Ch. 04 | Client Social Media Management
Helllooooo Friends,
It has been a busy week and the days will only continue to get more and more hectic. Last week we took you on a 9 am to the 10am rundown of the daily life. So this week we will give you a bit of an idea as to what the next hour entails. Riveting stuff, I know. I think we finished off somewhere along the lines of tying up social media accounts for the Creative Revolution channels. But what some of our readers may not realize is, we also handle other social media accounts for a handful of clients. So after I finish up with some personal matters, we move on to some business-related accounts. Now we typically monitor these throughout the week at various times. As there is no real set schedule, which is due in part to some reasons. First and foremost, as part of our social media management program (SMM), we monitor all channels of social media, which means we may have to answer questions or do more relevant research into a topic. And as you know, not everyone asks questions at the same time. Additionally, I want to make a note that we continue to use HootSuite's social media management suite to monitor and post content for our clients. They offer an affordable solution, and their platform is very fluid, smooth, and quick to learn. A big high-five to the owly heads over at HootSuite.
For small brands, a full-time customer service team coupled with a full-time marketing team is out of the budget. Many small brands have marketing budgets of only a few hundred dollars per month. With our social media management program, we develop small brand's social accounts, generate the proper information, tie them into websites with the appropriate API settings, and we create/cross post as much content as your budget allows. As I mentioned early, we also monitor the channels for questions or concerns that arise from any of your customers. We try to answer them with the knowledge we are given, but often we need to consult with the business to verify information before responding the public. This means that we cannot necessarily have a set schedule on that aspect of social media. But that is the nature of the business.
Once we have generated content, proofread it, edited any images, so-and-so forth, we will compile some basic analytics and go over any data. We like to see what the strong and weak points are on any weekly/monthly social media channels. We are constantly trying out new angles. Nothing is worse than following a channel that posts the same content over and over. Look at the photos of the two Instagram profiles.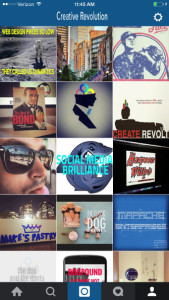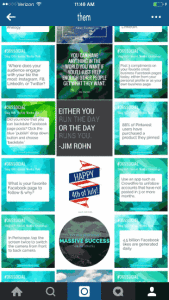 One is an account we follow, versus the Creative Revolution page. Now we understand there is a place for their style, but it hardly stands out for us. We appreciate their consistency, and they have a strategy, but it lacks a story and emotion.
Sorry for tooting our own horn, but we enjoy offering variety to our audience's feed. We spice it up with tips, and the occasional photos from our projects, some behind the scenes images. For more information on our social media management program, click here.
By now it is the 12 O'clock hour, and our next item on the checklist is coming up. LUNCH! Stay tuned for more bits and pieces of the daily life of a startup. Like this kind of stuff? Follow us on Twitter, and you'll know when we release the newest articles.
Keep grinding people.
Would you like to share your thoughts?