Social Media 101 – Follow the Yellow Brick Road of Social Media: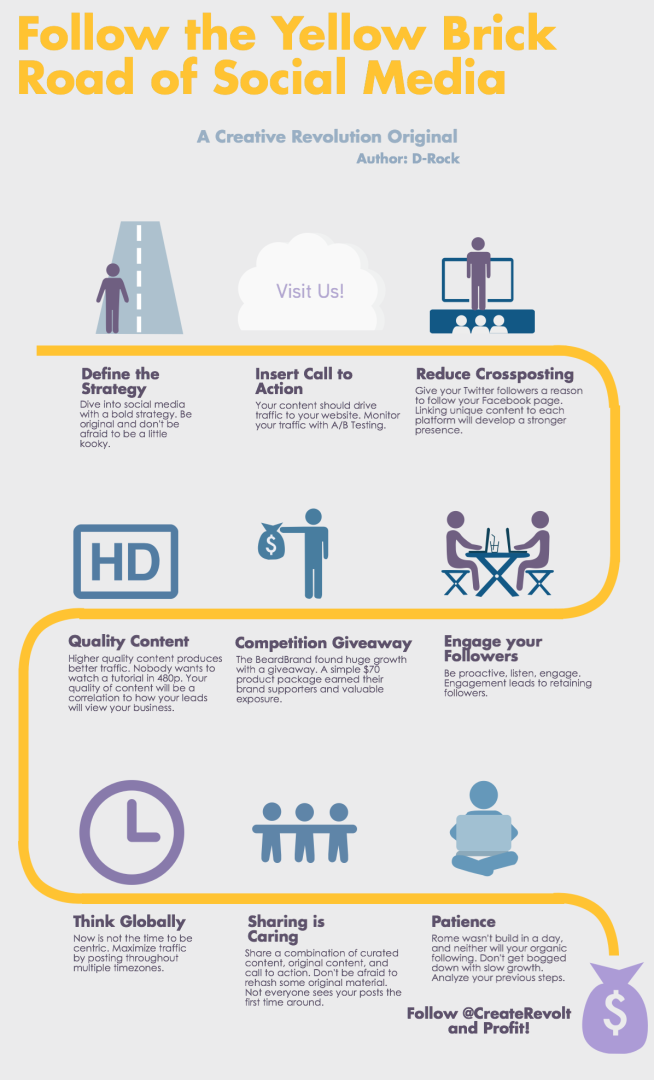 Step One – Define the strategy. Dive into social media with a bold strategy. Be original and don't be afraid to be a little kooky. Stand out from the rest!
Step Two – Insert Call to Action. Your content should drive traffic to your website. Monitor your traffic with A/B Testing.
Step Three – Reduce Crossposting. Give your Twitter followers a reason to follow your Facebook page. Linking unique content to each platform will develop a stronger presence. Why would one follower also like your Facebook page if they can find all of your content through one medium?
Step Four – Engage your Followers. Be proactive, listen, engage. Engagement leads to retaining followers.
Step Five – Competition Giveaway. The Beardbrand found huge growth with a giveaway. A simple $70 product package earned their brand supporters and valuable exposure.
Step Six – Quality Content. Higher quality content produces better traffic. Nobody wants to watch a tutorial in 480p. Your quality content will be a correlation to how your leads will view your business.
Step Seven – Think Globally. Now is not the time to be centric. Maximize traffic by posting throughout multiple time zones.
Step Eight – Sharing is Caring. Share a combination of curated content, original content, and call to action. Don't be afraid to rehash some original material. Not everyone sees your posts the first time around.
Step Nine – Patience. Rome wasn't built in a day and neither will your organic following. Don't get bogged down by slow growth. Analyze your previous steps.
Step Ten – Follow @CreateRevolt and LIKE US.
Would you like to share your thoughts?